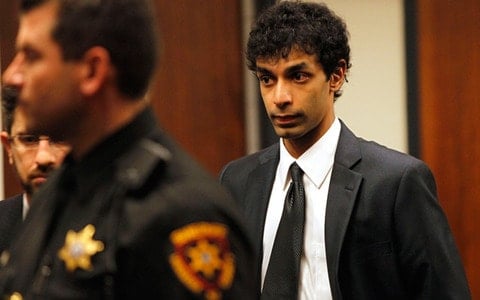 Dharun Ravi has been mostly silent since his Rutgers roommate Tyler Clementi committed suicide after Ravi used a webcam to watch his private gay hookup. Now that he's been found guilty of bias intimidation, invasion of privacy and others counts, Ravi sat down with Newark's Star-Ledger to explain himself.
Calling his actions immature, Ravi insists he "wasn't biased." "I [just] got caught up in what I thought was funny, and my own ego."
"I didn't act out of hate and I wasn't uncomfortable with Tyler being gay," he told reporter Mark Di Ionna. "One of my friends had a gay roommate and I met a gay kid I liked a lot at orientation. They were cool. It was no big deal. Now there's a verdict out there that says I hate gays. The jury has decided they know what is going on in my mind; they can tell you what you think."
Ravi also says he's sorry for all the pain he's caused, telling the paper, "I'm very sorry about Tyler… I have parents and a little brother, and I can only try to imagine how they feel. But I want the Clementis to know I had no problem with their son. I didn't hate Tyler and I knew he was okay with me. I wanted to talk to his parents, but I was afraid. I didn't know what to say."
Ravi will be sentenced on May 21, but vows he and his family will "fight on."