Two openly gay Democratic Colorado lawmakers, Senator Pat Steadman (pictured) and Rep. Mark Ferrandino, want to ask voters to repeal Colorado's Amendment 2, passed in 1992, and later declared unconstitutional by the Supreme Court. It bars local municipalities from passing anti-discrimination laws to protect gays.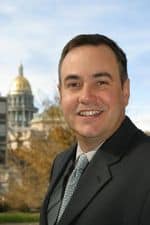 The AP reports:
The proposal passed its first vote Tuesday, but it will likely face opposition in the full Senate because it includes questions about campaign finance laws that have been deemed unconstitutional, too. Those laws are no longer enforced, but they continue to be printed in the Colorado Constitution.
"Whether you agree or disagree with that, they're dead letters. It's extra pages being printed in our already too long state constitutional," Democratic Sen. Pat Steadman, the sponsor of the proposal, told lawmakers before a vote.
The proposal may face an uphill struggle as the move to repeal Amendment 2 is bundled with a set of other laws proposed for repeal.
Republican Sen. Kevin Lundberg, who voted no on Steadman's measure, said voters should choose which laws deemed unconstitutional they want to erase from the Colorado Constitution.
"Put them before the people, but do it separately so the people can make targeted decisions," he said.