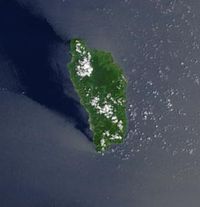 Here's an update on the two gay men arrested yesterday on the Caribbean island Dominica, where their Atlantis Cruise ship was docked, via the AP:
Two Southern California men have pleaded guilty to indecent exposure in Dominica following their arrest during a stop on a gay cruise of the Caribbean.

The men entered pleas on the eastern Caribbean island, where sex between two men is illegal.

They were arrested on suspicion of indecent exposure and the local equivalent of sodomy. Police said they had been seen having sex in plain sight of people on land.
The men each have to pay a $900 fine and will be released later today.
An additional UPDATE: A police chief in Dominca explains why the "buggery" charges were dropped.
"They could have been charged with buggery but because it is a very long process, we decided that it was in our best interest to deal expeditiously with the issue and get the individuals out of our island as quickly as possible," said Police Chief Cyril Carette.
"People coming to our island must be in conformity with our laws and if these laws are violated they must be prepared to suffer the consequences."