Over the weekend Brandon reported on the latest homophobic remarks from Alexander Lukashenko, the President of Belarus. Lukashenko attacked German Foreign Minister Guido Westerwelle's sexuality after a European Union censure during which Westerwelle referred to Lukashenko as a dictator.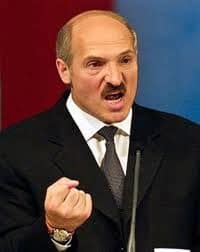 Said Lukashenko: "Better to be a dictator than gay."
Now, Germany is firing back, Reuters reports:
Said Foreign Office spokesman Andreas Peschke: "Unfortunately, these comments speak for themselves. They say a lot about the mind-set of the person making them."
Added German government spokesman Steffen Seibert: "Unfortunately (Lukaschenko's comment) shows very clearly the position that the Belarussian president takes in relation to basic rights. It's interesting to find out this way that Mr Lukashenko too now classes himself as a dictator…That by the way is a view that the federal government reached some time ago and on which the Belarussian president delivers proof almost daily"
It is not the first time Lukashenko has directed anti-gay ire at Westerwelle. Last year, he told reporters he dislikes "faggots" as he confirmed to them that he told Westerwelle that he needed "to live a normal life."