Same Same's Matt Akersten reports that Sydney Mardi Gras crowds were not impressed by RuPaul: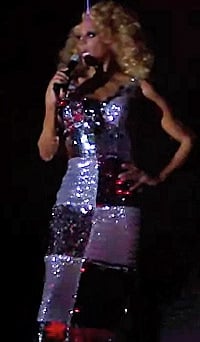 Alone on the giant stage at midnight in the Royal Hall of Industries, RuPaul badly mimed her song Supermodel, then departed, leaving her back-up dancers to perform the theme of Drag Race by themselves.
"She looked bored and mimed her own song badly, not caring if she stopped 'singing' while the main vocals on the song kept going," said a party punter who witnessed the carnage. She even told the crowd "Happy Pride!"
The Mardi Gras crew won't comment officially, but those involved with Ru's show were yesterday muttering about how hard she was to work with, with creative tussles ending in her refusal to be on stage with any of the back-up dancers.
The Courier Mail adds:
The 1990s nightclub pin-up threw organisers into a tizz after making an eleventh-hour change to her highly produced musical number featuring 40 back-up dancers. "Who knows why, but right before she was due to take to the stage she refused to go on with the dancers and said she wanted to perform solo," an insider said.
"The dancers were really shocked. They had been preparing all day. They ended up going out and performing the number anyway once RuPaul finished. They couldn't just waste having 40 dancers dressed, rehearsed and ready to go."
Watch, AFTER THE JUMP…