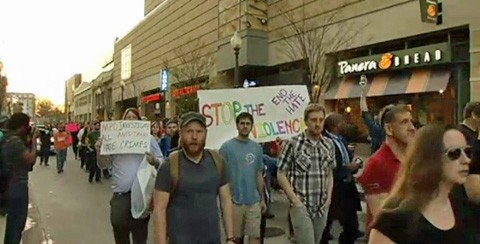 Last week I reported on three hideous attacks, two against gay men and one against a trans woman, in the Columbia Heights neighborhood of Washington D.C. Yesterday, hundreds of people turned out for a Silent March against anti-LGBT violence.
The Washington Blade has a great report:
Friends of one of the two gay male victims, who organized the march, said they were astonished over the outpouring of support that emerged from the LGBT community and city officials, including D.C. Police Chief Cathy Lanier and four members of the City Council.
"It was a Facebook event and I expected maybe 15 to 50 people to show up," said Patrick Pressman, one of the lead organizers. "And then from there it just exploded," he said. "It got to where it was today, when it was estimated that about 700 people were going to attend."
The Washington Post adds:
The silent march through Columbia Heights was designed to send a strong message to attackers that their community would no longer tolerate intolerance. The walkers started at the IHOP restaurant at 14th Street and Irving where a man was shot early Sunday morning after getting into a shoving match with a stranger spewing homophobic slurs. The throng walked toward Georgia Avenue, where a good friend of Brady's was so heinously attacked by two separate groups of men that his jaw shattered in three places. Arrests have not been made in either case.
Watch an NBC Washington report on the march, AFTER THE JUMP…
Video may take a few seconds to load…
View more videos at: http://nbcwashington.com.