The Missouri House has passed a bill that protects gun owners from discrimination, St. Louis Public Radio reports: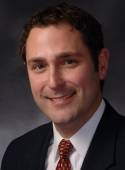 Under the bill, gun owners who carry their firearms with them in a lawful manner (i.e. possess a concealed-carry permit) cannot be fired, denied benefits, or otherwise discriminated against.  It was sponsored by State Rep. Wanda Brown (R, Cole Camp).
The state still has no law protecting LGBT people from discrimination:
Mike Colona (D, St. Louis – pictured), an openly gay lawmaker, expressed outrage that Missouri would protect gun owners from discrimination but not protect people based on sexual orientation.
"I can be fired because of my sexual orientation, my constituents can be fired because of their sexual orientation," Colona said.  "What this body has done is put protecting gun ownership above discriminating against somebody because of their sexual orientation, and I just don't think that's right."
The bill is now headed for the state Senate.