The Human Rights Campaign is making public a document sent to it by a NOM whistleblower revealing how Mitt Romney tried to shuffle his anti-gay financial activities in support of NOM and Proposition 8 through an obscure Alabama PAC. HRC is now calling on Romney to disavow the group's race-baiting strategy exposed by documents revealed earlier this week.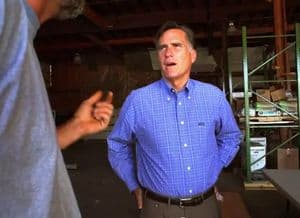 Sam Stein at the Huffington Post has more:
While neither the donation nor Romney's opposition to same-sex marriage were a secret, the precise way in which he contributed to NOM remained under tight wraps until Friday…
…when Romney eventually made his donation, he did so quietly, and through an unusual channel. Records filed by Romney's Free and Strong America PAC with the Federal Election Commission did not include details of that $10,000 donation. Nor did NOM's public 990 form. In fact, record of the payment was only uncovered Friday when the pro-gay rights Human Rights Campaign was sent a private IRS filing from NOM via a whistleblower…
…Asked for comment, an aide to Romney said that the donation was made through the Alabama chapter of the Free and Strong America PAC. State records confirm this. However, the 990 NOM filed lists the donation as having come from PO Box 79226 in Belmont, Massachusetts.
HRC's Fred Sainz writes, in an email sent out today:
It's becoming increasingly clear that Governor Romney was a major financial donor to Prop. 8. It's also increasingly clear that his financial disclosure to the effort is nonexistent.
 
The contribution to NOM was made by an obscure PAC in Alabama belonging to Governor Romney called "Free and Strong America PAC – Alabama" but never reported as part of any effort related to Prop, 8.  In an October 28, 2008 article in Utah's Deseret News, Romney's spokesperson takes credit for a contribution to Prop. 8 but there's no disclosure of a contribution to the effort.  He instead chose to give to NOM, a 501 (c)4 that is not required to disclose its donors. For what other purpose would you contribute $10,000 to NOM three weeks before the election other than Prop 8?  If Romney's spokesperson is accurate, then both Romney's PAC and NOM violated California disclosure laws.
American Bridge PAC is also demanding Romney disavow NOM's hateful race-baiting strategy. Scott Wooledge reminds us that Romney also signed NOM's marriage pledge, and asks:
…what did Mitt Romney know, and when did he know it? To be fair, Romney's 2008 donation predates the materials that have been made public. But his relationship, and that of his Church — a major donor to NOM — continues. And it stands to reason that there were 2008 versions of this strategy memo, as well as 2010, 2011, and 2012 versions. The mind shudders to imagine what is in the ones we haven't seen.
When Mitt Romney cut his $10,000 check for Maggie Gallagher and Brian Brown's National Organization for Marriage, did he know that his money would be used to "drive a wedge between gays and blacks — two key Democratic constituencies"? Did he know it would be going toward fanning hostility between his fellow Americans?