A few days ago there was a report from the International Gay and Lesbian Human Rights Commission "of a wave of targeted killings of individuals who are perceived to be gay or lesbian." According to the group more than 40 individuals have been kidnapped, tortured, and murdered in a new surge of violence.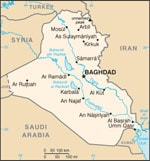 VICE magazine spoke to Ali Hili, a gay Iraqi living in London who started the group Iraqi LGBT about the reports. They were provided with an unauthenticated document Hili says shows that the Iraqi Ministry of Interior is authorizing such killings:
Though I have no way of verifying the document's authenticity, a translator tells me that it reads:
"It has been decided to form a yellow cell to ensure the elimination of the so-called homosexuals and will start its tasks in our known areas to stir chaos starting from Al-Karrada district. To accomplish the missions with absolute secrecy please use the transmission code 115/1/4"
The Badr Organisation – whose name is at the top of the cheery memo – used to function as a militia supporting a Shi'a political group called the Islamic Supreme Council of Iraq. Since the 2003 Allied invasion of the country, the official line is that its members have gone legit, and now only pick up guns on behalf of government security forces.
VICE has an interview with Hili about the situation there.
Meanwhile, activist Scott Long has been digging into the story as well, and reports that the government is also targeting "Emo" kids: "They're kids addicted to weird music; they're girls with earrings in strange places, or guys with their hair too long. In the midst of a moral panic galvanizing a demoralized and degraded country, these adolescents become the emblems of evil and the aliens to be extirpated."