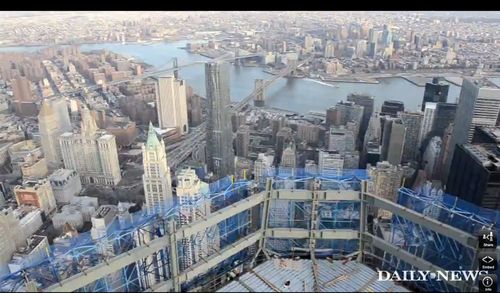 World Trade Center 1 is about to pass a significant milestone; already has a decent view. 

 Awesome editorial in The Concord Monitor about HB 437 and its mutant sibling, the Bates Amendment:
Before the House acts on the Bates proposal for a nonbinding referendum question, we need to get a lot more answers about the process, fiscal impact and precedents this would create. We also need to know what problem this seeks to solve, which is the question all responsible legislators must ask themselves before they vote to enact or repeal any law.

Have any voters been denied the opportunity to express their opinion on marriage equality? Has anyone been prevented from testifying on HB 437? Has there been a groundswell of public desire for a statewide referendum? Has the Marriage Equality Act of 2009 hurt any individual, family, business, nonprofit organization, city or town? Of course not.

 LA: Man was asked "Are you gay?" Then he was attacked.

 Visit the new gay Wiki, Wikiqueer:
… a web-based, not for profit, free-content encyclopedia and resource project, based on an openly editable model, specifically for and by the lesbian, gay, bisexual, transgender, questioning and ally communities. It is a program of The Aequalitas Project, a nonprofit organization serving as an incubator for new progressive programs. 

In a manner similar to Wikipedia, WikiQueer is written collaboratively by Internet volunteers who write without pay. Anyone with Internet access can write and make changes to WikiQueer articles (except in certain cases where editing is restricted to prevent disruption or vandalism). Users can contribute anonymously, under a pseudonym, or with their real identity, if they choose

 Alternate Dharun Ravi juror says he'd have voted the other way:
As an alternate, the Woodbridge Township resident heard all the testimony but did not participate in deliberations. The jury, which returned its verdict Friday, was unanimous in finding Ravi guilty of all 15 charges, including invasion of privacy and anti-gay intimidation.

"Whatever (Ravi) did was stupid, but I don't think he ever had any intention of intimidating (Clementi)," Downey said. "I think that scenario could have happened 100 different ways, whether he had a straight roommate who had a girlfriend over … there are 100 scenarios where he could have been goofing around and turning the camera on and it had nothing to do with somebody being gay."

Downey said he was "kind of up in the air" on the other charges, saying he likely would have voted to convict Ravi on charges of hindering apprehension and tampering with witnesses and evidence.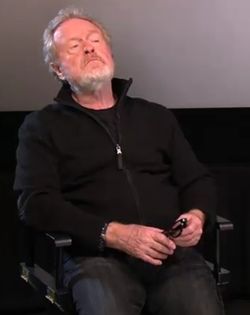 What's Tony Perkins think about the Dharun Ravi case?
Tony Perkins, president of the Christian group FRC, called the verdict "another opportunity for all Americans to speak out against the behavior of anyone who would abuse another person – especially a child – because of his/her sexuality or any other reason." However, Perkins warned in a statement that "some pro-homosexual activists would exploit the personal tragedies of these families to promote a political agenda."

 An 82-year-old gay nude model and his $71 SoHo apartment. Some dudes have all the luck.

 Lots of colleges are asking new students about their sexual identities.
 When do we die?

 Last night at the Anaheim AMC, Sir Ridley Scott and Damon Lindelof took questions from an audience and premiered the extended trailer to Prometheus – Ridley's long-awaited return to the universe of Alien. (Aliens and its sequels were all other people's movies.) Prometheus looks a little corny — it looks to be loosely based on Erich von Daniken's ancient astronaut nonsense — but man! It's nice to see that Gigerish aesthetic again. Watch the Q&A and trailer AFTER THE JUMP …