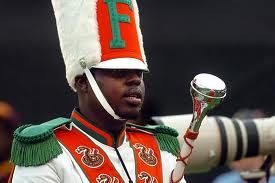 The Robert Champion case is coming along. According to the Orlando Sentinel, police will send prosecutors their report on Champion's murder very soon. How soon? No one's talking about that.
What they are talking about is the immense difficulty of everything that will come later. Robert Champion, you'll recall, was the 26-year-old gay drum major at Florida A&M who was beaten to death last November in a savage band hazing on a chartered bus. From the Sentinel:
… legal experts and former prosecutors said the case will be a "nightmare" to sort out because of all of the potential suspects — perhaps 20 or more — who either took part or might have encouraged the brutal beating Champion suffered.

… The state … will need to prove who did what aboard the bus that night — using witnesses who are part of a tight-knit group and many of whom probably participated in the hazing themselves.
Several sources interviewed for the Sentinel story imply, though don't outright say, that detectives' jobs have been made more difficult by some kind of confederacy among the guilty parties — a group which inevitably includes a great many, if not all, of the people who were present during the attack. From the Sentinel:
Key among [State Attorney Lawson] Lamar's decisions will be whether to charge everyone who played a role — directly or indirectly — or only those who led the hazing or dealt the most vicious blows, said several law professors and current and former prosecutors.

Even students who yelled at Champion during the beatings or encouraged the attack could be charged with felony hazing, which carries a maximum five-year prison sentence. Or they could face even more serious charges, including second-degree murder or manslaughter.
As of this writing, no one at all has been arrested in the Champion case — even though there's no doubt about how Champion was killed, where he was killed, why he was killed, or who was present for the killing.