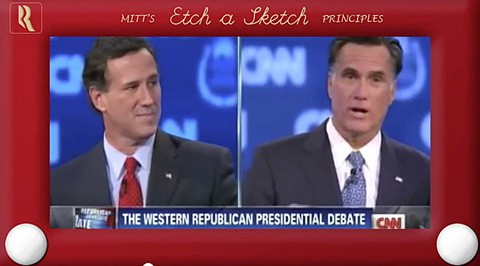 Newt Gingrich couldn't help hopping on the Etch a Sketch bandwagon, launch his own SketchyRomney.com website, along with an ad.
Watch, it, AFTER THE JUMP…
Eric Fehrnstrom, the aide behind the gaffe, isn't likely to be hurt by it:
Despite the gaffe, it appears unlikely that Fehrnstrom will be demoted or will lose his job. He is one of Romney's most trusted advisers — if he worked for President Obama, he would be a cross between David Axelrod and Robert Gibbs — and Romney is fiercely protective of his loyalists.
"Eric is the first guy to jump out there and defend Mitt," said Romney's communications director, Gail Gitcho. She added that Fehrnstrom, who runs senior staff briefing calls with Romney every morning, provides "very careful counsel."
It was good news for somebody: "Ohio Art, the company that makes Etch A Sketch, saw its stock jump up a whopping 212.5 percent."