There is movement afoot in Ohio to do away with the state's ban on same-sex marriage, the Dispatch reports: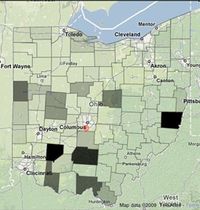 The Freedom to Marry Coalition expects to file more than 1,700 signatures of registered Ohio voters; 1,000 valid signatures are required in the first step of placing a constitutional issue before Ohio voters this fall or possibly next year.
The proposal would change the Ohio Constitution — amended in 2004 to block same-sex marriage — to say that the state and political jurisdictions define marriage as "a union of two consenting adults, regardless of gender." It also would stipulate that "no religious institution shall be required to perform or recognize a marriage."
Tim Hagan, former Cuyahoga County commissioner, Democratic candidate for governor in 2002 and co-chairman of the campaign, called it "the most-significant civil-rights act since 1964. I don't know how one human being can look at another human being and say, 'You don't have the same rights.'
Anti-gay groups say such a move will be tied, as it was in 2004, to the presidential election:
Phil Burress, of the Cincinnati-based group Citizens for Community Values, said that if same-sex marriage supporters put the issue on the ballot this fall "they can kiss (President Barack) Obama goodbye." Burress' group was instrumental in passing the 2004 amendment defining marriage as between a man and woman, an issue credited by some with helping President George W. Bush to win a second term.
385,253 signatures will be required to get the measure on the ballot should it be approved by the Ohio Ballot Board.