Speaking to the U.S. Bishops today in Vatican City, Pope Benedict condemned same-sex marriage in reaction to the recent passage of marriage equality laws, AFP reports: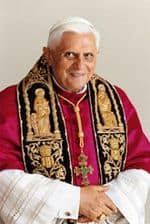 "Sexual differences cannot be dismissed as irrelevant to the definition of marriage," the pope said, warning against "the powerful political and cultural currents seeking to alter the legal definition of marriage."
"Marriage and the family are institutions that must be promoted and defended from every possible misrepresentation of their true nature," he said.
The Pope also discussed  "the serious pastoral problem presented by the widespread practice of cohabitation" and praised Bishops for their pastoral work:
"I appreciate all that your parishes, schools and charitable agencies do daily to support families and to reach out to those in difficult marital situations, especially the divorced, single parents, teenage mothers and women considering abortion."
In January, the Pope told the Vatican diplomatic corps that same-sex marriage "threaten[s] human dignity and the future of humanity itself."