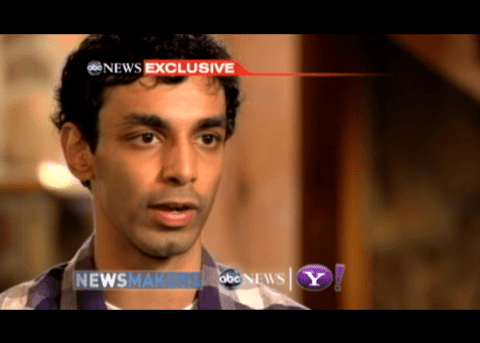 Dharun Ravi has been making the media rounds following the guilty verdict for his role in Tyler Clementi's 2010 suicide. First there was his sit-down with Newark's Star-Ledger, and now ABC News is promoting their own interview with Ravi, set to air tomorrow on 20/20.
In addition to saying again that he doesn't dislike gay people, Ravi tells journalist Chris Cuomo that he doesn't ultimately feel responsible for what happened.
"I feel like I was an insignificant part to his life. That's giving me comfort now," he said, "The more and more I found out, it would be kind of obnoxious of me to think that I could have this profound effect on him." He also argues he couldn't have been the sole factor in Clementi's death: "He had bigger problems in his life," which is most likely true.
Ravi does, however, admit he was in the wrong by transmitting Clementi's gay hookup. "Even though I wasn't the one who caused him to jump off the bridge, I did do things wrong and I was stupid about a lot of stuff." But he does believe he's been "used" to make an example, telling Cuomo, "I understand why people feel the need to punish me. Bad stuff happens and they need to set an example, but it's unfortunate this has to be the case where this happens."
Watch a preview of Ravi's interview with ABC News, AFTER THE JUMP…