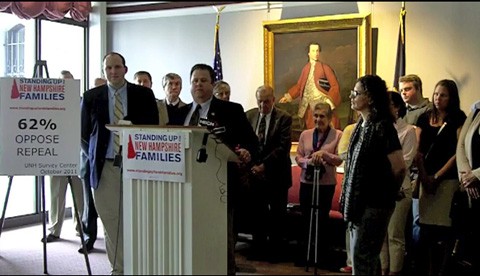 Pro-equality group Standing Up for New Hampshire Families held a press conference today to speak out against Rep. David Bates' HB 437 which would roll back the state's marriage equality law, replace it with civil unions, and place a non-binding measure on the ballot, Windham Patch reports:

More than 20 members of the leadership council of Standing Up for New Hampshire Families, along with family, friends, and spouses, gathered together to tell members of the press why they were involved in the group and why they believed in preserving the state's same-sex marriage law. Attendees included many former and current Republican activists, business owners, and a former chief justice of the New Hampshire Supreme Court…
…State Rep. Mike Ball, R-Manchester, the chairman of the Manchester Republican Committee, said he and others represented "a sizable amount of Republicans in the House who feel that gay marriage is a liberty issue." Ball, who grew up in the south and attended a segregated elementary school, likened the same-sex marriage to the civil rights issues of the time period.
"This is a segregation bill," he said.
The government should not "be micromanaging a certain group of people's lives … that's not acceptable," he added.
Watch their press conference, AFTER THE JUMP…
More on the hideous Bates amendment HERE and HERE.
New Hampshire's largest newspaper, the Union Leader posted an editorial over on Sunday calling for a voter referendum, while an editorial in the Concord Monitor spoke out against it.