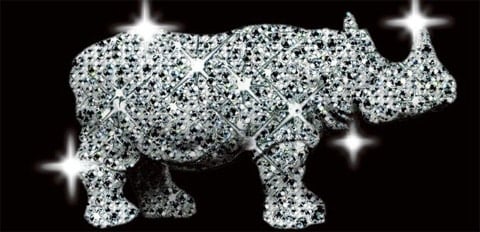 You will know you have arrived at Birmingham, England's gay village by the light from the bedazzled rhinoceros.
It has been partly-funded by Birmingham's Lesbian Gay Bisexual and Transgender (LGBT) group and the leftover cash from previous grants made by the city council as part of the Big City Plan to revitalise the city centre.
The overall cost of the model is £15,000 with Birmingham City Council providing the bulk of the cash through money received from nearby building schemes, with £2,500 from the Southside Business Improvement District. Organisers said a rhino was chosen to represent the area because the beast was "associated with strength and was originally a symbol of the gay rights movement in the United States".
The use of rhinestones is supposed to reflect Birmingham's rich jewellery-making history.
It is hoped that the rhino will be enough of a tourist draw to help revitalize the depressed district.
UPDATE: Some commenters noted that they had never heard of the rhino as a symbol of gay rights. I had never heard that before either.
Here's this, from the website Lambda.org:
The purple rhino made its first appearance in December 1974. It was created by  two Boston gay rights activists: one source names Bernie Toal and Tom Morganti, another says it was Bernie Toal and Daniel Thaxton. The entire campaign was intended to bring gay issues further into public view. The rhino started being displayed in subways in Boston, but since the creators didn't qualify for a public service advertising rate, the campaign soon became too expensive for the activists to handle. The ads disappeared, and the rhino never caught on anywhere else.
As Toal put it, "The rhino is a much maligned and misunderstood animal and, in actuality, a gentle creature." But when a rhinoceros is angered, it fights ferociously. At the time, this seemed a fitting symbol for the gay rights movement. Lavender was used because it was a widely recognized gay pride color and the heart was added to represent love and the "common humanity of all people." The purple rhinoceros was never copyrighted and is public domain.