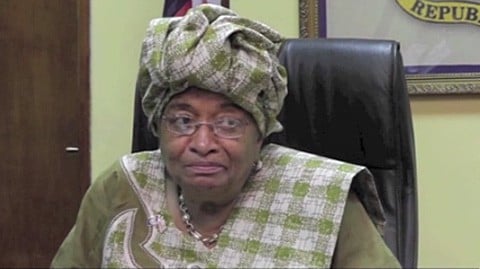 Yesterday I posted video of Liberian President Ellen Johnson Sirleaf telling The Guardian she won't sign any law decriminalizing homosexuality.
Said Sirleaf:
"We like ourselves just the way we are…We've got certain traditional values in our society we'd like to preserve."
Today, the State Department expressed concern and said it would be looking into Liberia's treatment of LGBT people, the AP reports:
Administration officials have lauded Sirleaf as Africa's first female leader, and Liberia has received hundreds of millions of dollars in U.S. aid since emerging from civil war last decade. But her comments are providing an early test of President Barack Obama's recent directive for officials to use foreign assistance and diplomacy to promote gay rights globally, even if the administration says it is not making foreign aid contingent on a nation's record.
State Department spokeswoman Victoria Nuland said the U.S. stood by its policy of aggressively promoting gay rights. But asked about Sirleaf's statements, just two months after Secretary of State Hillary Rodham Clinton traveled to Liberia to attend Sirleaf's second inauguration, Nuland said the U.S. would be inquiring with Liberian officials to "find out whether the reporting is accurate and express some surprise and concern."
Added Nuland:
"I think if there were major pieces of legislation that discriminated against any group, we would have to take that into account in our relationship, and it would be a cause for concern."
Watch the video HERE if you missed it.