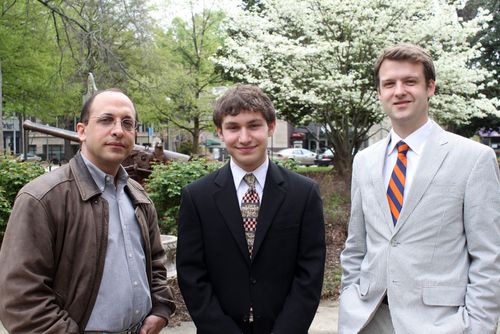 Yesterday, Andy told the story of Reuben Lack, the student council president of Atlanta's Alpharetta High School, who was allegedly removed from the presidency after he proposed making prom more gay-friendly. (He intended to alter the rules of Prom King- and Queen-ship so that LGBT folk might be eligible.) Lack was, and is, suing Alpharetta over the matter.
Andy wasn't the only one reporting the story. It's been all over the web and the television and the presses, and it's come as a bit of a shock to Alpharetta, Lack, and Lack's attorney — a Mr. James Radford, who has now posted a plea for sanity to his website: 
Did we predict [Reuben's story] would explode the way it has? Not in my wildest imagination.

I have no "PR Department," no formal means of publicity. I don't even have a secretary. I am a one-man show, having been a solo practitioner for less than 6 weeks at the time this story broke. I issued a short statement on my blog, including a copy of the complaint and our motion for injunction. I contacted two Atlanta-area TV reporters who I knew personally, because I thought they might be interested in the story. And Reuben's family and friends shared my blog post on Facebook.

Within 48 hours, we were being contacted by the Associated Press, Reuters, LGBT publications throughout the country, XM satellite radio, and the list goes on. The story went international. I was personally overwhelmed with media inquiries, and also messages of support. We tried to accommodate the media requests as best as possible, and gave interviews to three local news stations, the Georgia Voice, and the reporter from AP.

This was initially very exciting. But the story may have gotten too big, too fast, and I believe the students, faculty, and administration at Alpharetta High School have found themselves overwhelmed. I know Reuben and his family have felt overwhelmed. Reuben is just a kid who wants to finish his term of class president, something that is very important to him, and something that he earned through his own hard work and persistence.
But as Lack's story gained media traction, some claimed otherwise: That Lack had been removed from his position due to poor leadership and general flakiness. As Mr. Ratford notes, this seems unlikely: The school administration never griped about Lack until he tried to make prom more gay-friendly.
Nevertheless, Lack's got a lot of enemies in his school, and they're vicious. They've been throwing invective all over Twitter, making fun of Lack's backpack (it apparently has rollers; hashtags such as "#rollingbackpackboyprobz" and "#ihopereubensbackpackgetsaflat" are common) and his alleged sexuality and/or lack of intelligence ("f*** reuben and his gay ass. he is stupid as f***"), and braying homophobic nonsense in a way that suggests nobody's told Atlanta's children that they will one day have HR professionals picking through their internet histories. ("If Reuben Lack is reinstated as student council president I'm dropping out. I don't want to see a guy in a tiara win prom queen.") Mr. Ratford features all of this ugliness and more on his website, which will hopefully serve as notice to somebody. Young Alpharettans may be too stupid to know it, but when your bullying tweets are republished by an angry attorney, the situation has become serious.