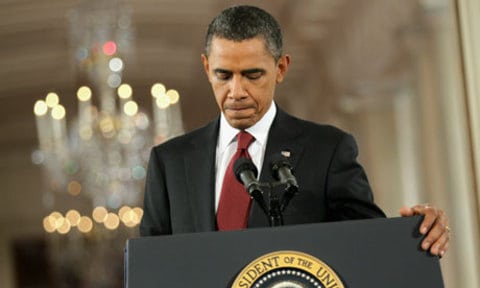 Equality activists refuse to roll over after President Obama rejected an executive order prohibiting federal contractors from discriminating based on sexual orientation or gender identity and vowed today to keep pushing him on the non-discrimination issue
From the Washington Post:
Gay rights activists vowed Thursday to amp up political pressure on the White House over President Obama's refusal to sign a non-discrimination executive order, with some decrying the decision as a maneuver to delay action until safely past the November election.

One prominent liberal donor said he would spend $100,000 to fund a "We can't Wait" campaign targeting Obama, a direct takeoff of the president's own slogan describing his efforts to seek administrative actions as an end-run around what he has termed an obstructionist Congress. The money will be used to fly victims of workplace discrimination at federal contracting firms to Washington to confront Obama and his aides and gin up public attention.
CBS News has a bit more on the burgeoning movement:
Jonathan Lewis, the son of major Democratic donor Peter Lewis, said in a statement that the president can't blame Congress for this "broken promise."

"He has not been able to provide a single valid reason for why he is now refusing to sign the executive order protecting LGBT workers," said Lewis. "It has become increasingly clear that this decision is based on cowardice rather than principled leadership."

Sympathetic donors are not being asked not to contribute to the president's reelection campaign, but instead to donate at least as much to the non-discrimination effort.
White House Press Secretary Jay Carney said today that the President wants to focus on creating a national Employment Non-Discrimination Act.