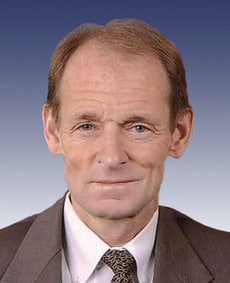 In a surprising reversal, Republican Rep. Tim Johnson of Illinois is reportedly ending his reelection campaign and retiring from Washington after six terms, CBS News reports.
Johnson was expected to make a public announcement of his decision Thursday, said the official, who spoke directly with Johnson but would confirm the decision only on condition of anonymity in order not to pre-empt the congressman's formal announcement.

The reason for the 65-year-old Johnson's decision was not clear, but the official said he wanted to spend more time with his family.

Johnson, known for taking positions at odds with his party colleagues and his attempts to call every resident of his district, was considered a strong candidate for re-election in November to his seat in eastern Illinois' 13th Congressional District. He is just two weeks removed from a primary victory over two candidates.
Johnson had a rigidly anti-gay record during his tenure in the House: he voted against the Employment Non-Discrimination Act, for both the 2004 and 2006 amendments that would have banned gay marriage and against DADT's repeal. So, you know, good riddance.
Another fun fact: Johnson endorsed long shot presidential candidate Ron Paul last month, and Ron Paul's leadership PAC recently gave Johnson's campaign $5,000. Both men, it seems, made bad investments.