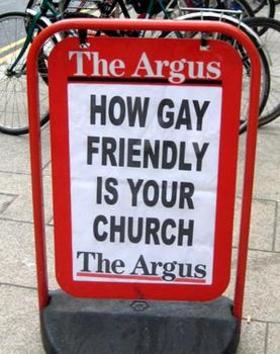 The Edmond Trinity Christian Church in Oklahoma announced yesterday that it is officially an LGBT-inclusive church. The congregation voted unanimously last month to stand alongside the Gay Lesbian and Affirming Disciples ministries and welcome all people into their mix. And now that it's formal, Rev. Don Heath says he plans on using his pulpit to fight religion-backed hate.
Via The Oklahoman:
[Heath] said some Christians use certain biblical Scriptures he called "the clobber passages" to condemn homosexuality. He said it is important to note the Bible was written by man and some passages "reflect the prejudice of the time" and not necessarily the inspired Word of God.
This is only the second affirming church in the state. Though there may be a bit of backlash, Heath and his wife, Mary, say they're ready anything. If anti-gay zealot Fred Phelps and his family come along, for example, Mary said she'll bring them cupcakes and punch. That's nice, so long as the cupcakes aren't too good.