Archbishop of Wales Dr. Barry Morgan has called on the Anglican Church to welcome gay people, and accept marriage equality should it pass in the UK: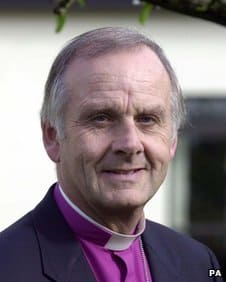 In his presidential address to members of the Church in Wales' Governing Body in Llandudno, North Wales, the archbishop called on fellow Anglicans to prove that the Gospel of Jesus was "good news" for gay people.
He said: "The Government's consultation on civil marriage raises a whole host of theological questions for the church. My concern is that in any discussion which might ensue on this, gay people may once more gain the impression the church is uncaring and unsympathetic.
"If the legislation to allow civil marriage is passed, I cannot see how we as a church will be able to ignore the legality of the status of such partnerships and we ought not to want to do so.
"The question is, will the church protect and support pastorally faithful, stable, lifelong relationships of whatever kind in order to encourage human values such as love and fidelity? Things could be said in the coming months which I think could seriously damage people pastorally."
"Rev Andrew Morton, vicar of Llangybi, Monmouthshire, who recently announced his intention to resign in an effort to move forward efforts to secure the full inclusion of gays and lesbians in the church," responded to Wales Online:
Mr Morton said it was clear there were same-sex unions that were "as full of grace as many heterosexual relationships".
Predicting some disquiet in the denomination as a result of the speech, he said: "I don't think he will gain universal approval and I think there are some people who will be aghast [who] will think he's sold out to political correctness which is a nonsense. Anybody who knows Barry knows he couldn't give a monkey's about political correctness."
Instead, Mr Morton said, the archbishop's priority was identifying "truth".