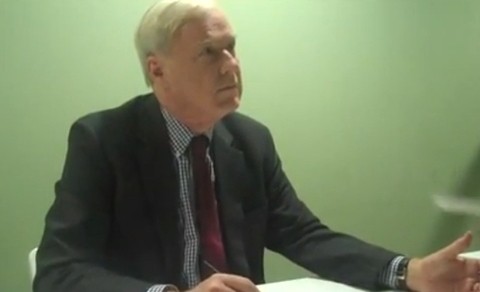 The gay Christian group Faithful America has been tenaciously asking MSNBC host Chris Matthews why he continues to host Tony Perkins, the hideously homophobic head of the Family Research Council.
Matthews sort of blew the group off during their last encounter, which you can see here, but their most recent exchange seems far more fruitful, for Matthews admitted that Faithful America, and other activists trying to get Perkins off their air, may have a fair point.
Here's a partial transcript of the latest incident:
MATTHEWS: Why don't you think I should have him on my show?

Q: You said that you wouldn't have Franklin Graham on your show earlier this year because he tells hateful lies and I was wondering if you thought that was a different standard.

MATTHEWS: Well you got to make your case, you know. I talked about this with my producers last night and we're trying to decide how to deal with it. My view is I don't like censoring opinion and Tony Perkins has been on this show and he hasn't said something like that on my show, he doesn't talk like that on Hardball.*

Q: Do you think it gives him credibility when he's on Hardball though, for what he says off Hardball?

MATTHEWS: You know I think that's an argument — that's a good argument. I'm thinking about it. You're doing the right thing, you're doing the right thing keep it up. You know where I stand on the issues that I care about, you know. And I'm probably with you on these issues but I got to think it through.
Watch video of Matthews and the Faithful America activist chatting it up, AFTER THE JUMP.