The Colorado State Senate approved SB-2, the Colorado Civil Union Act, on its second reading. The bill passed with bipartisan support and moves on to third reading and final passage, most likely tomorrow.

"If signed into law, the bill will provide committed gay and lesbian couples with critical legal protections and responsibilities, such as the ability to inherit property, to take family leave to care for a partner, to visit a partner in the hospital, and to make medical and end-of-life decisions for a partner," according to an email from advocacy group One Colorado.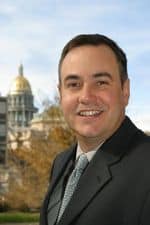 Said Brad Clark, Executive Director of One Colorado: "Civil unions are about commitment. They're about responsibility. And they're about being able to take care of the one you love. Today's bipartian vote in the Senate affirms the dignity of all loving families in the state. We look forward to a fair hearing in the House. Issues with overwhelming public support like civil unions deserve an up-or-down vote by all of our Representatives."
 
Said Senator Pat Steadman (pictured), the bill's sponsor: "Civil unions will allow committed couples to share in the responsibilities and protections in Colorado law that most families take for granted. Our society is stronger when we promote personal responsibility and taking care of one another, and civil unions do just that."
The bill faces a much tougher battle in the House where a similar bill was killed last year.