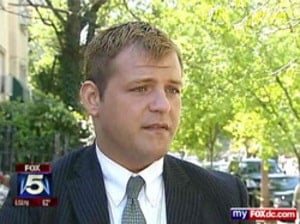 There's some more information coming out about Peter TerVeer, the Library of Congress staffer who says he was fired for being gay.
According to a Today Show report and TerVeer's attorney's, that TerVeer's boss, John Mech, found out about the employee's sexuality after he "liked" a Facebook group called Two Dads.
After making the discovery, Mech reportedly began sending TerVeer emails about Jesus "prohibited sexual immorality including homosexuality". TerVeer's therapist then suggested he take some time off to recover from the stress, at which point TerVeer was fired.
A spokeswoman for the Library of Congress said she could not comment on personnel matters. But the Library released a statement saying, "Library of Congress employees, like all employees in the federal government, have protection against workplace discrimination under Title VII of the Civil Rights Act. Library employees who believe they have been subjected to discrimination may avail themselves of an internal administrative process to address their equal employment opportunity complaints."

TerVeer filed a claim with Library of Congress' Equal Employment Opportunity Complaints Office, Simeone said. The office has until mid-May to make a ruling. After that, TerVeer can take his case to the U.S. Equal Employment Opportunity Commission. EEOC spokeswoman Christine Nazer would not comment on the case.

Even though sexual orientation discrimination was part of the case, Simeone said his client will fight the termination based on religious bias. He said laws protecting workers against sexual orientation discrimination are limited and provide few, if any, remedies for compensating workers in cases like TerVeer's.
This story is unfolding at a particularly inconvenient political time for President Obama: the White House said yesterday that he will not sign an executive order protecting federal contractors from LGBT discrimination.