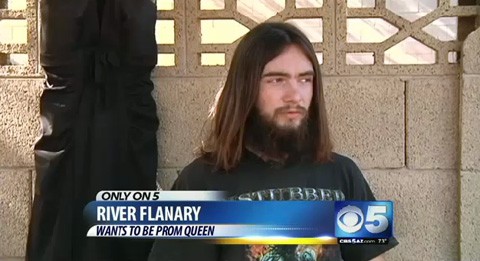 River Flanary, a straight high school student in Tempe, Arizona, ran for prom queen and won after receiving the most votes of any of the candidates on a write-in ballot. Flanary designed his own dress for the occasion, but school officials are saying he can't attend. Flanary says his rights have been violated, CBS5 reports:
When CBS 5 News asked him why he wanted to run he said, "I guess you could say that I am standing up for those who maybe weren't bold enough to stand up before and maybe putting that courage in their hearts a little."
He said he is talking about homosexuals, bi-sexuals or transgender students, but the Tempe School District is being very clear that a prom ballot is a write-in ballot that asks students to write in names of girls for queen and names of boys for king.
"If they want to challenge the way the ballots are written, that would need to be addressed, and it wasn't," said Linda Littell with the Tempe Union High School District.
Watch, AFTER THE JUMP…
Video may take some time to appear.