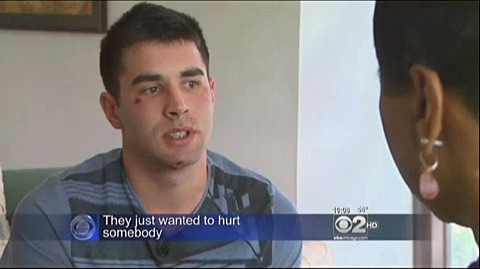 Illinois State University student Eric Unger was beaten over the weekend at the ISU campus in Normal by a group of men after having his cell phone knocked from his hand while walking home from a party on Saturday, the Sun-Times reports:
Eric Unger said he had just left a party and was walking home alone about 2:30 a.m. in the 100 block of West Willow Street when a group of men passed him from behind — and one of them knocked his phone out of his hand.
The 23-year-old from north suburban Deerfield, who is openly gay, said he asked the group, allegedly comprised of five to eight African-American males, "what their problem was."
Unger said they responded with anti-gay slurs and surrounded him. He said he pleaded that he "just wanted to go home," but the men attacked him, still hurling anti-gay epithets…
…Normal Police Sgt. Adam Kapchinske confirmed responding officers found Unger, a family relations major, injured, after an apparent beating. No one witnessed the attack, and the student did not mention his belief the attack was a hate crime in a police report, Kapchinske said, adding that an investigation is ongoing.
Unger's jaw is still wired shut, but he spoke to CBS Chicago about the attack.
Watch it, AFTER THE JUMP…
Video may take some time to load…