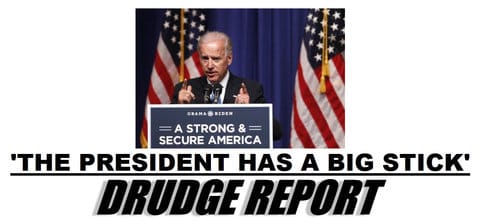 Conservative aggregator Matt Drudge abandoned panic and sensation for a moment today and instead went with double entendre when linking to video of Vice President Joe Biden saying President Obama has a "big stick" and will be aggressive in negotiations with Iran.
Drudge can't be blamed for partaking in some puerile humor. Who wouldn't? Biden's comments begged for a chuckle, as they're wont to do. And NBC News reports that even Biden's audience laughed, which apparently inspired Biden to offer another suggestive remark:
Biden, notorious for his gaffes, said when it comes to Iran policy, it was time to heed the timeless advice of Theodore Roosevelt, to "speak softly and carry a big stick."

"I promise you, the president has a big stick," Biden said.

The bizarre choice of words elicited giggles from his audience and spread quickly on Twitter after it was tweeted by political reporters. About 500 people were in the audience, mostly NYU students.

Biden also got some laughs when he described Obama's decisiveness.
"This guy's got a backbone like a ramrod. For real. For real," he said.
Hey, the man knows his audience.
Watch video of Biden's "big stick" remark AFTER THE JUMP.
(h/t Joe.My.God)