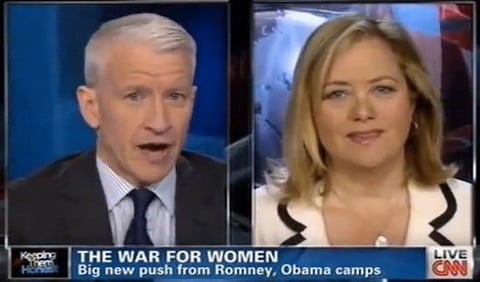 Hilary Rosen, a Democratic strategist who's also a CNN commentator, found herself roundly criticized for comments she made about Mitt Romney's wife Ann on Anderson Cooper 360 last night.
Insisting that Romney's "old-fashioned" on women's rights, and entirely dependent on his wife for policy points, Rosen wondered whether Mrs. Romney was the best advisor on such issues because, according to working mother Rosen, "[Ann Romney] has actually never worked a day in her life."
What you have is Mitt Romney running around the country, saying, 'Well, you know, my wife tells me that what women really care about are economic issues, and when I listen to my wife, that's what I'm hearing.' Guess what? His wife has actually never worked a day in her life.
…
She's never really dealt with the kinds of economic issues that a majority of the women in this country are facing, in terms of how do we feed our kids, how do we send them to school, and why do we worry about their future.
Ann Romney or one of her staffers must have been watching, because it didn't take long before the potential first lady joined Twitter specifically to blast back, "I made a choice to stay home and raise five boys. Believe me, it was hard work." Son Josh Romney also piled on, say his mother is "the smartest, hardest working woman I know"
Democrats too seem perturbed by Rosen's remarks. David Axelrod, President Obama's senior adviser, said he was "disappointed in Hilary Rosen's comment," which he also described as "inappropriate and offensive." And Stephanie Cutter, deputy campaign manager for Obama's reelection effort, had this to say: "Families must be off limits on campaigns, and I personally believe stay at home moms work harder than most of us do."
Campaign manager Jim Messina also took some time to criticize Rosen, and his response may be the most harsh: "I could not disagree with Hilary Rosen any more strongly. Her comments were wrong and family should be off limits. She should apologize."
Rosen has been trying to explain herself over the past few hours, writing first on Twitter, "When I said @AC360 Ann Romney never worked I meant she never had to care for her kids AND earn a paycheck like MOST American women!" She then went on, further defending herself against Mrs. Romney's tweet: "I am raising children too. But most young American women HAVE to BOTH earn a living AND raise children. You know that don't u?"
Then, to Mrs. Romney herself, Rosen wrote: "Please know, I admire you. But your husband shouldn't say you are his expert on women and the economy."
Watch Rosen's original comments, AFTER THE JUMP…