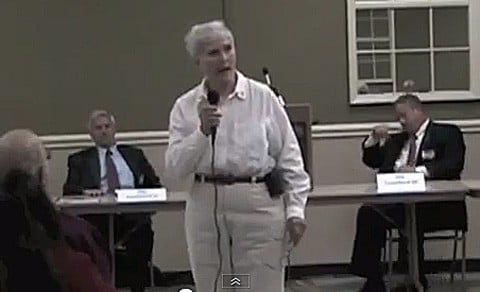 Andrew posted this video last week in a round-up, but I just wanted to post it again since there are only 8 days until the heinous Amendment One appears on North Carolina's ballot and this clip is one of the most powerful I've seen in recent weeks and I think more people should see it.
Watch it, AFTER THE JUMP…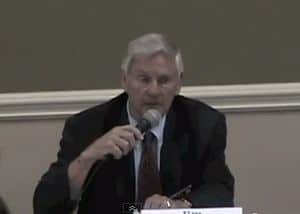 In addition to a lesbian's public coming out and her powerful speech, the clip also reveals Amendment One's sponsor Rep. Jim Crawford, revealing that he doesn't support the version that's on the ballot.
Says the woman angrily:
"If this Amendment One passes and becomes part of our state constitution I won't have the right in this state to visit my partner of 38 years were she laying dying in the hospital. I wouldn't have the right to arrange her funeral were she to die because I wasn't a direct member of her family."
She then takes aim at Crawford, sitting behind her to the left:
"And a co-sponsor of that hateful piece of discriminatory legislation was introduced by Jim Crawford, and I'll never forgive you for that, because you slapped me and every gay person in this state when you did that."
And then she comes out, receiving a big round of applause:
"I want to put a face on this amendment. I have never publicly declared that I am a lesbian. Well I am. And I have been since I was  teenager. And I didnt choose to be. And I didnt fight it. I have gone to mental health people to try to change what I am. But I am what I am, and I'm a damn good citizen of this county."
Watch, AFTER THE JUMP…
The gap is narrowing. If you wish to help defeat Amendment One, give HERE.