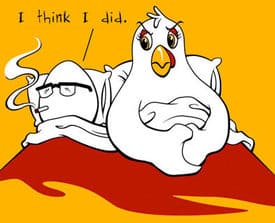 The Knoxville City Council voted to pass a non-discrimination hiring policy.

In other Tennessee news, the state senate passed a bill prohibiting the censorship of students' religious views, even if those views include verbally discriminating against LGBT people.

Jake Gyllenhaal is headed to the stage to star in the off-Broadway production of Nick Payne's If There Is I Haven't Found It Yet.

Mystery solved? "A Sri Lanka hen has given birth to a chick without an egg, in a new twist on the age-old question of whether the chicken or the egg came first."

Colon versus cologne.

James Franco on James Franco.

Simon Cowell puts gay rumors to rest in a new book about the mogul. "If I was gay, why wouldn't I admit it? It wouldn't harm me and my mother wouldn't freak out," he said. Meanwhile, that same book claims that The Voice coach Jessie J is a lesbian, but was told to tell the public that she's bisexual. She claims that's a lie.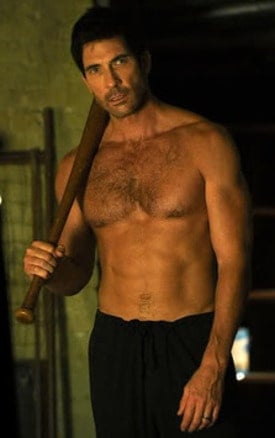 Atlanta gay activist Ken Britt announced that he's running for the state's House of Representatives.

Matt Damon offers George W. Bush love for the former president's work on HIV/AIDS: "I would kiss George W. Bush on the mouth for what he did on PEPFAR." Damon says he would kiss Bush for a total of three seconds with no tongue.

Michele Bachmann claims President Obama is "waving a tar baby" to distract from gas prices. "Tar baby" is of course a term often used as a pejorative for black people.

President Obama is way more likeable than Mitt Romney, say voters, but the men are still pretty close in campaign polls.

Joe The Plumber thinks he's got God's vote in his bid to become a congressman.

Director, writer and general cinematic philosopher Werner Herzog did not realize for 35 years that John Waters is gay. "For me, a man is a man. I cannot distinguish a gay man from a straight man. I just cannot distinguish. Unless the man comes in drag and is so obviously gay, then I would notice."

Ryan Murphy has revealed some new details about the forthcoming second season of American Horror Story. Sorry, still no shirtless Dylan McDermott.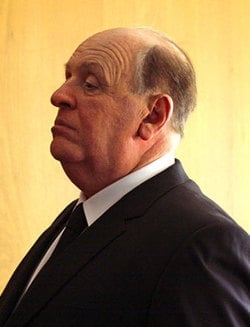 Right wing group Traditional Values Coalition is going after the National Institute of Health for using images of naked men on an HIV awareness website. It's "gay porn," says the organization's president, Andrea Lafferty.

Sir Anthony Hopkins really looks like Alfred Hitchcock.

Students at Western Connecticut State University are calling on the FDA to lift its archaic ban on gay men giving blood.

Dream date? President Obama's reelection campaign is raffling off a dinner with him and George Clooney.

Is Invisible Children, the evangelical-backed group behind Kony 2012, trying to overshadow Day of Silence, the annual event that combats anti-gay bullying in schools?

Anne Hathaway and Hugh Jackman sing on set for Les Miserables.

Rachel Maddow was "totally shocked" when Keith Olbermann was fired from Current.

A full list of all the movies competing at Cannes.