Football players at a San Antonio high school lent their popularity and friendship to a bullied peer.
Good education: "A New York group has won approval to organize what would be the only Parent Teacher Association unit in the country currently dedicated to the needs of gay and lesbian youths."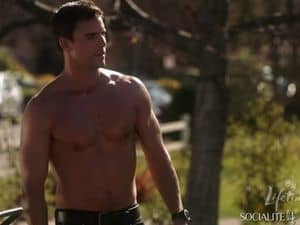 Colin Egglesfield is oft shirtless on The Client List. Any why wouldn't he be?
A GOProud activist doubts the veracity of Hilary Rosen's Ann Romney apology, because "radical left-wing lesbians are just too stubborn to admit when they're wrong." I doubt the veracity of that statement.
Sorry if this is too much Titanic coverage, but Daniel Mendelsohn has an interesting article about why we care so much about the ocean disaster in this week's New Yorker: "[The Only Way to Cross] winningly portrays the wireless boys of a hundred years ago as the computer geeks of their day, from their extreme youth to their strikingly familiar lingo. "WHAT IS THE MATTER WITH U?," came one response to the Titanic's distress call."
What kind of car is President Obama?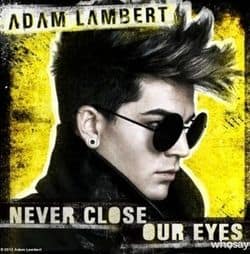 Here is the cover for Adam Lambert's new single, "Never Close Our Eyes."
Ready to read some post-Harry Potter JK Rowling? Here are some details on her forthcoming book, The Casual Vacancy: "The 480-page book, which is described as 'blackly comic, thought-provoking and constantly surprising', is about a parish council election in a small English town called Pagford."
President Obama on Kanye West: "He is a jackass. But he's talented."
This is totally true: "The United States would be a very different place if everyone cared this much about misogyny when there wasn't a presidential election in which appearing to care about misogyny could score a political point."
The plaintiffs in McLaughlin v. United States, a suit demanding the government extend benefits to the spouses of gay soldiers, are asking the House of Representatives' Bipartisan Legal Advisory Group to weigh in on the case on April 20, 8 days earlier than the previous deadline.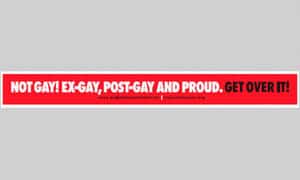 Transport for London announced late Thursday that a contract for an "ex-gay" group's bus ads reading "Not gay! Post-gay, ex-gay and proud. Get over it!" has been scrapped
The Avengers premiered in Los Angeles last night. Those not lucky enough to attend will have to wait until May 4th.
First Lady Michelle Obama came out in defense of Ann Romney today.
Rumor has it that Justin Timberlake and Jessica Biel will tie the knot in Italy this summer. Maybe once that's over with he'll make another album?
Bikini waxes are for some reason increasingly popular among men.
Equality activism from across the religious rainbow for marriage rights in North Carolina: "Groundswell, a social action initiative of Auburn Seminary, will launch the Groundswell of Courage campaign, a multifaith, national, grassroots campaign that supports full LGBTQ equality and dignity this Saturday, April 14th, 2012, in North Carolina, just 24 days before North Carolina's May 8 ballot initiative that would change the state constitution and ban same-sex marriage and legal recognition for North Carolina's LGBTQ couples."
The U.S. Justice Department today issued its first hate crime indictment for an incident involving sexual orientation. From the DOJ: "The indictment charges the men with committing a hate crime in violation of the Matthew Shepard and James Byrd Jr. Hate Crimes Prevention Act, which expanded federal jurisdiction to include certain assaults motivated by someone's sexual orientation."