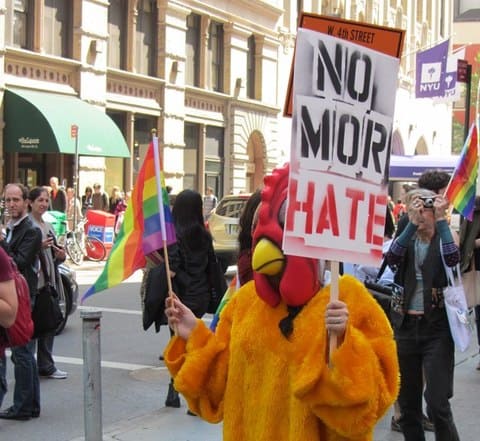 A few NYU students and rainbow flag-creator Gilbert Baker protested Chick-fil-A today for the fast food chain's massive financial support of anti-gay groups.
Kate Schaefer at Gothamist reports that the protest was organized by Hillary Dworkoski, an NYU student who started a change.org campaign to get Chick-Fil-A off the school's campus. (Gothamist also notes that the NYU location is the only Chick-fil-A in New York City, which is surprising, though nice.)
Some more:
While other vendors can be banned from campus for human rights violations, John Sexton (President, NYU) and the Student Senators Council maintain that this is a political issue, and they can't get involved, "I guess they just don't see that gay rights are human rights," says Dworkoski.

Dworkoski has been fighting this cause for a while and is running for a spot as Senator so that she can be on the Student Senators Council next year and pursue Chick-fil-A through student government. "Even if Chick-fil-A is never banned from campus, at least we're raising awareness about it and that's 13,000 more people that aren't eating Chick-fil-A," Dworkoski told us today.
In other Chick-fil-A news, Cord Jefferson today tore into equality-minded people who still partake in the unapologetic company's offerings: "If you find that it's impossible to stop eating at Chick-fil-A despite your deeply rooted pro-LGBT values, perhaps those values aren't as deep-seated as you think." I would say that's a fair assessment.