Despite the fact that it is "causing a huge commotion" in North Carolina, President Obama chose not to mention Amendment One in his speech at the University of North Carolina today, notes Andrew Rosenthal at the NYT: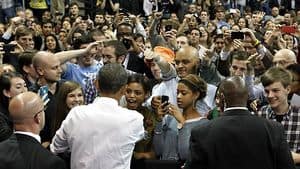 The president has made some effort to end officially sanctioned discrimination against gay couples, one of the last remaining formal barriers to true equal rights. His administration has stopped defending the Defense of Marriage Act, which prohibits federal recognition of same-sex unions.
Yet he still refuses to come out in support of marriage equality, claiming that his position is "evolving." His silence on Amendment One this afternoon, and on gay marriage throughout his presidency, may keep his campaign managers happy, but hardly reflects the "yes we can" attitude that got him elected.
The closest Obama has come to speaking out against the measure, which would constitutionally prohibit same-sex marriage, as well as civil unions and domestic partnerships in the state, was a statement in March delivered by a campaign spokesman, "that the President has long opposed divisive and discriminatory efforts to deny rights and benefits to same sex couples."
No doubt that a statement, today, with the measure up for a vote on May 8, could have added to the momentum of those opposing it, who are seeing some gains in that area.