Police have arrested 15 men 'suspected of homosexuality' in Gambia, AFP reports: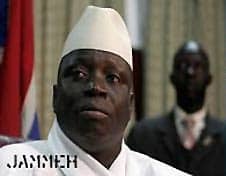 The men, all Gambians except one Senegalese, were arrested late Monday when police raided a bar in a popular tourist area. Officers had received a tip of people "publicly displaying or promoting homosexual activities," a senior police officer speaking on condition of anonymity told AFP.
"They will be charged accordingly after we have completed our investigations," the police official said.
Homosexuality in Gambia is punishable by up to 14 years in prison.
In 2008, Gambian President Yahya Jammeh told all homosexuals to leave the country or risk being beheaded.