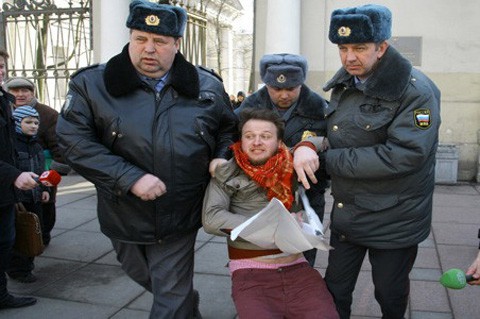 Two activists holding signs reading "Gay is Normal" were arrested today in St. Petersburg, Russia, in a test of the city's so-called "gay propaganda" law which bars (and imposes fines for) gay groups, gay books and periodicals, LGBT Pride events, and other "promotion" of homosexuality.
The St. Petersburg Times reports:
Alexei Kiselyov and Kirill Nepomnyashy were arrested outside the Palace of Youth Creativity holding signs bearing the words, "Gay is normal," police told Interfax. Police said the pair was conducting so-called one-man pickets — which do not require City Hall approval — meaning that they were not standing together or yelling slogans.
Under a St. Petersburg law that took effect last month, anyone found guilty of promoting homosexuality among minors is to be fined from 5,000 to 500,000 rubles. The law has been condemned by domestic and international human rights advocates and gay activists, and by Western governments.
A hearing scheduled for Friday will decide whether Kiselyov and Nepomnyashy will be fined for their actions.