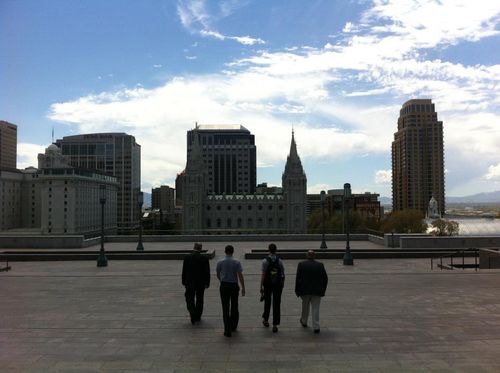 (via Soulforce – Facebook)
Members of gay Christian activist group Soulforce met with LDS legislative lobbyist Bill Evans, public-affairs representative John Taylor, former TV reporter Ruth Todd and LDS attorney Alexander Dushku in Salt Lake City yesterday as part of their Equality Ride, the Salt Lake Tribune reports:
The group, Soulforce's 2012 Equality Ride, had four specific requests for the LDS Church: to cut all ties with and denounce Evergreen International, which continues to use "reparative" therapy in its treatment of gays; to stop funding groups that are fighting civil marriage equality across the country; to encourage LDS Business College to bring its policies on homosexuality in line with current Mormon teachings; and to add sexual orientation and gender identity/expression to the faith's policies for church employees.
The Soulforce group members had hoped to meet with Church leadership, although they described the meeting as "overall positive":
[Jason Conner, Equality Ride's co-director] said Mormon officials also agreed to work on using "more inclusive language" and to reiterate to members that no gay person should "question their worth or value or be kicked out of their home because of their orientation or gender expression identity."
The church, for example, should stop describing members who were "struggling with their sexuality," Conner said. "I'm not struggling. I am completely comfortable with my sexuality."
You may have missed…
Straight Mormons Say It Gets Better: VIDEO [tlrd]
Gay Mormons at Brigham Young University Say It Gets Better: VIDEO [tlrd]