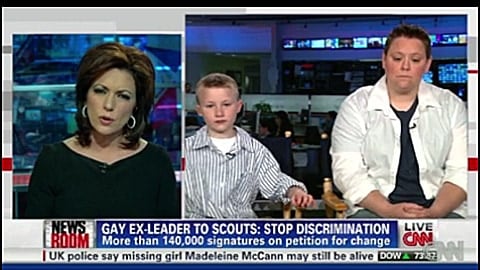 Jennifer Tyrrell, the Ohio den mother discmissed by the Boy Scouts for being a lesbian, appeared on CNN today to speak with Kyra Phillips.
Watch, AFTER THE JUMP…
In related news, the Boy Scouts is standing by its discriminatory policy, LZ Granderson reports:
Needing answers, I reached out to the Boy Scouts and Deron Smith, the organization's director of public relations, sent me an official statement that in part read:
"Our focus is on delivering the nation's foremost youth program of character development and values-based leadership training. Our mission does not include teaching young people about sex or sexual orientation, and we do not believe it is Scouting's role to introduce this topic in our youth development program."
Fair enough. So I asked Smith via e-mail if the group had received complaints that Tyrrell was attempting to turn the Scouts into an unofficial sex ed camp.
He didn't answer that question.
Meanwhile, parents in Tyrrell's PAck 109 are defending her:
Said fellow parent Robert Dunn:
"I'm not a city person. I'm just a backwoods hick, and I don't think anybody around here have an issue with homosexuals. She did a wonderful job, and what they did to her was just horrible. When I told my son Jen was kicked out because she is gay, he didn't know what was wrong because he thought gay meant happy. He's just devastated."
Said parent Patty Morgan:
"It has been brought to my attention that BSA is now saying that the boys were being taught about sex and other inappropriate subject matter. Those accusations are not true at all. I have three children in Scouts. My youngest Jordan, was a Tiger scout with Jen. Jen has been a great leader in our scouting family. I trust her with my children completely. It is sad that she must be defended against false accusations like these!"
More reactions at GLAAD.
Watch Tyrrell's CNN appearance, AFTER THE JUMP…