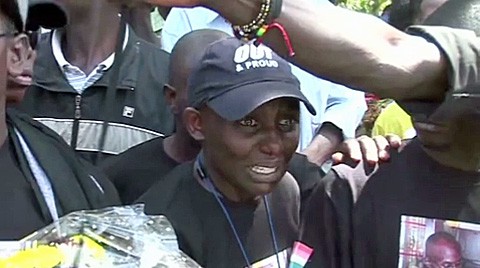 PBS NewsHour did an excellent 8-minute piece last night on the re-emergence of the "kill the gays" bill in Uganda, slain activist David Kato, anti-gay evangelizing by American 'Christianists' like Scott Lively, Hillary Clinton's statement to the UN urging rights for LGBTs in Africa and abroad, and the dangerous political atmosphere for gays now.
Watch, AFTER THE JUMP…
Here's a companion article:
The bill's re-emergence this year is a direct, defiant result of the recent Obama administration move to use foreign aid to push gay rights. "Gay rights are human rights," declared Secretary of State Hillary Clinton.
How Uganda's legislation fares this time around is anyone's guess. As journalists "parachuting in" to cover it, our recent experience may well serve as a proxy for how the legislation — or homosexuality in general — has become a third rail nobody wants to touch.
Watch In Uganda, Gays Face Growing Social, Legal Hostility on PBS. See more from PBS NewsHour.