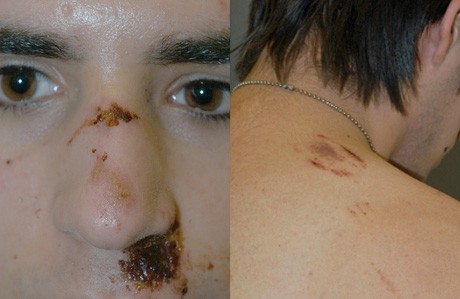 Police released photos yesterday of a man who had been bitten in an anti-gay assault yesterday in Gloucester, UK:
The incident happened in Mill Street at about 5am on Sunday March 25.
An 18-year-old Stonehouse man and 21-year-old Gloucester man were both subjected to homophobic abuse after one of them made a comment about the way a woman was being spoken to during a domestic argument between a man and woman on Millbrook Street.
The man followed the two victims along Mill Street before attacking both of them.
One of the victims suffered a broken nose and bite mark to the shoulder during the assault.
E-fit images of the man and woman are being collated but in the meantime officers are urging anyone who can identify the man and woman who were arguing or anyone with any information about the incident to come forward on the new non-emergency number 101, quoting incident 82 of March 25.