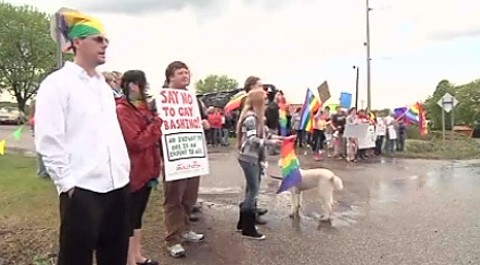 Approximately 100 people turned out for an anti-hate rally in support of Max Pelofske, a 21-year-old man who was beaten by a group of possibly more than nine high school seniors at a graduation party after witnesses reported they asked Pelofske if he was gay. (Catch up on my earlier post HERE.)
The Duluth News Tribune reports:
"The support has been just wonderful. In less than 24 hours more than 200 people committed to come," said Boomer Hudacek, a gay rights advocate from Superior and one of the organizers of the event.
As he looked across the crowd assembling outside the entrance of the Proctor golf course, Hudacek said: "I'm overwhelmed. It brings tears to my eyes."
Jesse Campbell, a gay rights advocate from Duluth, said, "We want to give people a positive place to channel their energies. We also want to give people an opportunity to grieve that this could happen and to show support for Max and his family."
Pelofske's Mother, Kathy Callahan says he was a target and her son is stunned from the incident.
"Absolutely yes he thinks it was a hate crime, they did this because he was gay…Max is really shaken up. He's going to be OK physically but mentally, not really good right now."
The St. Louis County Sheriffs Department has not called this a hate crime. The investigation is still ongoing but the people representing this rally say it's not really about the crime; it's about raising awareness with a problem in the public school system.
Watch Northlands News Center's report, AFTER THE JUMP…
You may have missed…
Gay Man Brutally Beaten by Large Group of HS Seniors at Minnesota Graduation Party [tlrd]