Legendary gay author Edmund White (A Boy's Own Story, The Beautiful Room is Empty, The Farewell Symphony) suffered a stroke earlier this month according to a notice to friends on his Facebook page, dictated to his partner Michael Carroll. Carroll indicated that the information could be made public.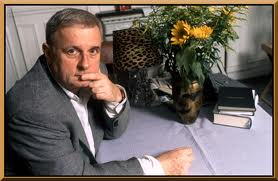 The setback is apparently the second for the writer, the first having happened last Thanksgiving in Providence.
Of the more recent stroke, Carroll writes:
A word from Ed and me:
Forgive my neglect in reporting on Ed. Ed's condition is more serious than before but his improvement is remarkable on a daily basis. I'm busy but not as busy as the first time around since he's in an excellent facility getting great care and being forced through a great number of daily therapies. He can now raise his right arm fluidly and unhaltingly and his speech is more and more articulate. I'm grateful that it occurred in the hospital, though I do believe they dawdled a bit in getting him stroke-specific treatment. More on that later.
Ed says, "I'm already reviewing a book and thinking about completing my memoir. I'm 2/3 through and hope to finish it in November, even if I have to dictate to Michael Carroll."
xoMC & EW
Towleroad wishes Ed White the best in his recovery.