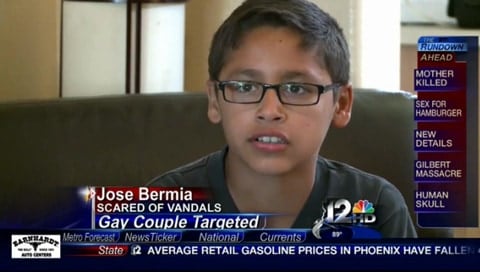 A gay couple with four children in Gilbert, Arizona are being terrorized in a series of attacks. The series of attacks has escalated from banging on windows, to burning bushes, to anti-gay notes left on cars, to breaking into the family home and writing graffiti on the house's walls.
Watch, AFTER THE JUMP…
A poster on Democratic Underground writes:
Roy and Felix are an interracial couple – Felix is hispanic, Roy is white. A couple of the kids are Hispanic.
They recently moved to Gilbert from North Phoenix – every since then, they have had items burned on their lawns, racist and anti-gay notes attached to cars, people pounding on their doors in the middle of the night, yelling at them, and finally, a break in where graffitti was sprayed in the house last week.
Police have been called 9 times – and each time, Roy and Felix were made to feel as if the problem was their fault for being gay, hispanic, having handicapped children, etc.  Roy and the kids are too scared to stay at the house – and are now staying with his sister.  Fortunately, friends of the couple have mobilized – starting a facebook page, contacting media, local officials, etc. It is helping – Felix had a meeting yesterday with the Gilbert Hate Crimes Unit, and with Gilbert Internal Affairs. Congressman Flake's office has been in contact.
Watch NBC12's report, AFTER THE JUMP…