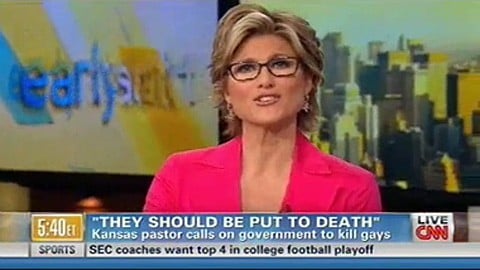 At the end of a segment about Kansas Pastor Curtis Knapp, who made headlines this week over a sermon in which he said the government should kill gays, CNN's Ashleigh Banfield declared homosexuality "a lifestyle choice" that "is voluntary", Mediaite reports.
Said Banfield
Pedophilia is not by choice, last I checked. In his sermon, Pastor Knapp blamed the Bush administration for its tolerance of gay people. Says that he claims that set the stage, in fact, for the Obama administration to endorse same-sex marriage.
Like I said: they can't make this stuff up. Unbelievable. Speechless, right? […]
Again, we gotta outline here, when he says "they punish incest and pedophilia"… Please. Those things are often not by choice and are crimes. Homosexuality is a lifestyle choice by people; it is voluntary.
Watch the segment, AFTER THE JUMP…
Banfield later said, via Twitter,
"Need 2 clarify. Incest and pedophelia are CRIMES & victims have no choice. Being gay is not. Relatnshps r by choice. Way of life not crime…Being gay is not a choice. Being in consensual relationship is. I support LGBT people. I do not support pastor who says its a crime."
GLAAD tells Towleroad that Banfield will be addressing the remarks on her newscast tomorrow.