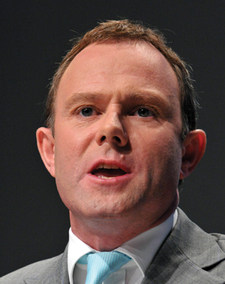 Nick Herbert, the British Minister of State for Police and Criminal Justice, sat down with the Evening Standard this week to voice his frustration over arguments that civil partnerships for same-sex couples are just as good as marriages.
"[I'm] getting rather fed up with people metaphorically jabbing a finger into my chest and saying I should put up with a civil partnership," said Herbert, a gay man who had a civil partnership ceremony in 2009.
"How would they like it if I jabbed a finger into their chests and said they should put up with a civil partnership instead of their marriage?"
He went on, "In my view it's not acceptable to say to a group in society, 'You should put up with something that is a second order institution to something that everybody else is entitled to, because we say so'."
"I think this is about nothing more or less than a fundamental issue of equality."
As in the States, many British politicians think the government should focus on rebuilding the economy and other kitchen table issues, but Herbert marriage can and should share the stage with other pressing matters.
"It has been suggested that this issue is not a priority," he told the paper. "Since when was equality not a priority? Ensuring that people are treated equally without fear of discrimination should always be a priority. That's why I think this proposal matters."
Parliament has been debating gay marriage all year, with one of the most vocal supporters being Conservative Prime Minister David Cameron, who described marriage equality as a "conservative" issue.
"Conservatives believe in the ties that bind us; that society is stronger when we make vows to each other and support each other," Cameron said last year. "I don't support gay marriage in spite of being a Conservative. I support gay marriage because I am a Conservative."
That is the very same argument some conservatives here in the States are trying to make.