I mentioned earlier in the week that Colorado Governor John Hickenlooper planned to call a special session of the legislature after House Republicans stalled and killed a civil union bill likely to pass there.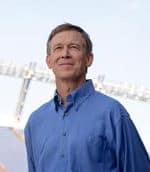 Hickenlooper has done that:
Colorado's Democratic governor called on Thursday for a special legislative session to consider a civil unions bill that would grant legal rights to same-sex couples, setting up a potential showdown with Republican lawmakers.
Governor John Hickenlooper said in an executive order calling for the session, due on Monday, that the bill was needed so couples, regardless of their sexual orientation, could "take care of each other and their families."
Hickenlooper has previously told reporters that without the bill, which failed to advance to a vote in the state House of Representatives during the regular session, the state was depriving people of their civil rights.