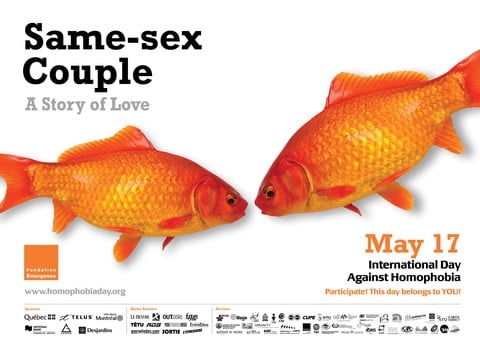 Today is International Day Against Homophobia, an annual event organized by the Canadian LGBT group Fondation Émergence.
"Whatever your sexual orientation may be, I urge you to get involved in your community since the fight against homophobia concerns all of us," Fondation Émergence president Laurent McCutcheon writes on the organization's site. That site includes a wide-ranging discussion of homophobia, its roots and even on how gay men often participate in homophobia, too. Here are some definitions from the site.
Interpersonal Homophobia: Non-verbal displays of being ill-at-ease, feeling unsafe or experiencing fear when in contact with gay men and/or lesbians

Institutionalized/Systemic Homophobia: The built-in institutional practice of putting gays and lesbians at a disadvantage

Opportunistic Homophobia: Being interested in homosexuality solely for financial or personal gain, and not wanting to be associated with being homosexual or with gay men and lesbians

Internalized Homophobia: An often sub-conscious form of homophobia that is a product of education and social values passed down by society' Gay men and lesbians, too, can adopt homophobic behavior.
And then of course there's passive homophobia: standing by while someone else dishes it out, which is just as bad as actively bullying.