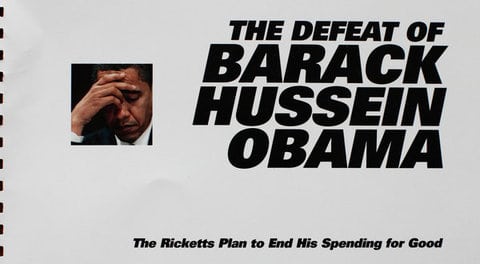 A group of "high-profile" Republican insiders and donors are considering a number of plans to smear President Obama, including one that includes referencing his ties to the controversial Reverend Jeremiah Wright, the New York Times reports.
According to the paper, billionaire Chicago Cubs owner Joe Ricketts and his family asked GOP strategist Fred Davis and a team of strategists to draw up a 54-page memo called "The Defeat of Barack Hussein Obama: The Ricketts Plan to End His Spending for Good" that offers tactics for taking down the Obama.
"The world is about to see Jeremiah Wright and understand his influence on Barack Obama for the first time in a big, attention-arresting way," the plan says.
In addition to reminding voters about Obama's ties to Wright, a reverend most famous for his "God damn America" remark, the Ricketts Plan floats the idea of hiring an "extremely literate conservative African-American" to go on television and say Obama presented himself as a "metrosexual, black Abe Lincoln."
Meant to run during the Democratic National Convention in September, the campaign would be a series a commercials, newspaper ads and even "aerial banners."
Ricketts, also the founder of TD Ameritrade, has not signed off on this $10 million strategy and is considering many other modes of attack, according to Ricketts' ally,Brian Baker, president of the Ending Spending Action Fund super PAC.
"Joe Ricketts is prepared to spend significant resources in the 2012 election in both the presidential race and Congressional races," Mr. Baker said in an interview Wednesday. "He is very concerned about the future direction of the country and plans to take a stand."

The document makes clear that the effort is only in the planning stages and awaiting full approval from Mr. Ricketts. People involved in the planning said the publicity now certain to surround it could send the strategists back to the drawing board.
Mitt Romney's campaign says they're against using Wright in a smear campaign, but also say it is in fact Team Obama that's playing dirty. "Unlike the Obama campaign, Gov. Romney is running a campaign based on jobs and the economy, and we encourage everyone else to do the same," he said. "Just last week, David Axelrod referred to individuals opposing the president as 'contract killers.' It's clear President Obama's team is running a campaign of character assassination. We repudiate any efforts on our side to do so."