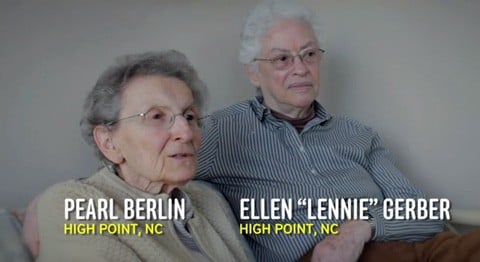 On the eve of North Carolina's vote on the discriminatory Amendment One, which would take away civil unions, domestic partnership, and constitutionally prohibit any legal union that isn't one man and one woman, Protect All NC Families has released this video of real North Carolinians talking about the hateful measure and why they're opposing it.
Watch, AFTER THE JUMP…
In related news, it was finally revealed who is behind the language meant to confuse voters.
Writes Chris Fitzsimon at NC Policy Watch:

House Majority Leader Paul Stam, a chief proponent of the amendment, dismisses such talk as crazy and foolish, but he had never deigned to tell us why the amendment goes so much further than simply restating the ban on same-sex marriage if that is his goal.
This weekend, Stam finally explained it to the Fayetteville Observer who reported it this way.
Stam, the Raleigh lawmaker, said he wanted a more narrowly worded amendment but was "overruled" by "national experts" he identified as the Alliance Defense Fund, a Christian legal advocacy group.
I don't recall electing the Alliance Defense Fund to represent me or to overrule members of the North Carolina General Assembly.  Apparently Stam's first allegiance is to a hate group, not the people in Wake County that he is supposed to represent.